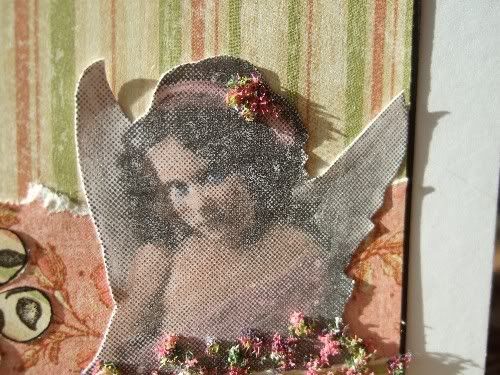 There's a product called flower soft that I've been thinking about buying for a while, it looks really useful, but unfortunately all the samples I've seen are really twee, not that there is anything wrong with twee - it certainly has it's place.
I decided to go ahead and get some so after standing looking at the pots for about 15 mins- and starting to get funny looks from the staff. I decided on a pot with mixed colours which are sort of heathery. I was determined I would only get one pot, until I had seen if it was any use.
I've made this card. The flower soft is the dimensional bit below the fairy and on her hair band. if you are not familiar with the product you glue it on with pva, and sprinkle it on like glitter, but it's a lot lighter than glitter.
The background papers are a very generous gift from one of my inchie swappers. The stamps are by
inka
, and I've painted the fairy girl with pearlescent paints
hmmm I suppose it is a bit twee, but I like it! lol